Whether you are at home or at work, voice intercoms are an important security feature when it comes to protecting your premises. Intercoms allow you to screen visitors to your home or office and assess whether they can be trusted. This way, you need only open your door to those who you want to invite inside while keeping unwelcome visitors away.
If you are looking to have voice intercoms installed on your premises, then choose Locksmith Los Angeles for the best intercom and access control installation in Los Angeles. We offer commercial intercom system installation services for clients anywhere in the Los Angeles area. We provide services for a range of high-quality voice-based office intercoms as well as home intercom system installation services.
We also offer HD video intercom security systems and video doorbell installation options that are perfect for both home and commercial intercom system installations. Take a look at our services for intercom and access control installation in Los Angeles below.
Home Intercom System Installation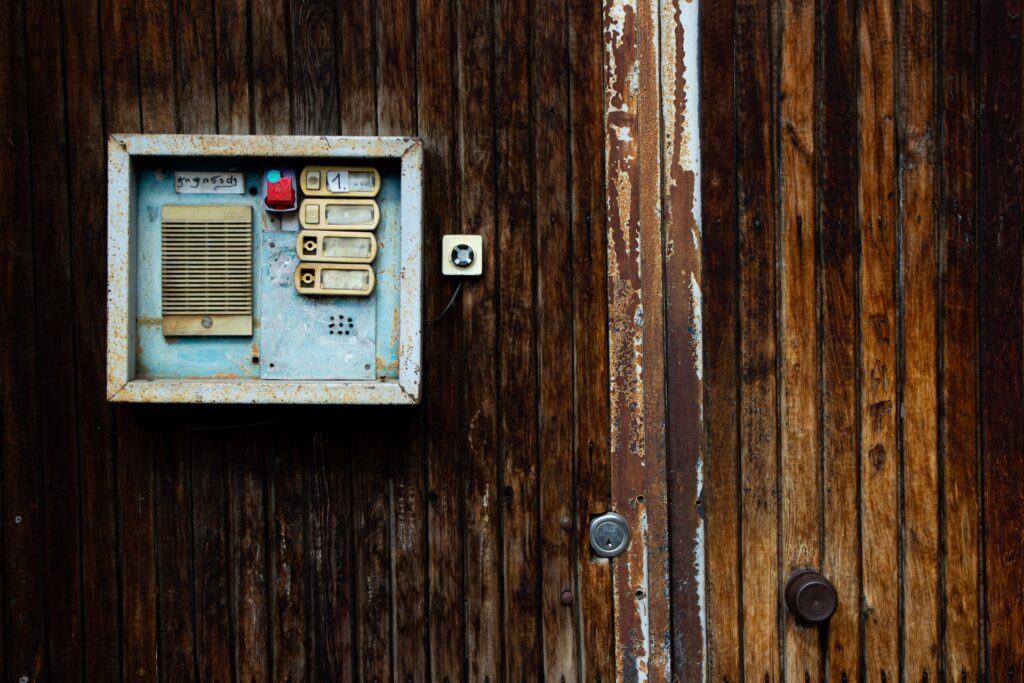 Intercom systems in your home are vital for the protection of your family and your property. First and foremost, they let you know who is at your door before you come face to face. Perhaps you are waiting on tradespeople to arrive, or an unexpected visitor turns up. Your intercom will allow you to find out who they are before you open the door. Many intercoms can also record who arrives on your doorstep, so you can review the video and audio when you arrive home or remotely via phone or tablet.
Here at Locksmith Los Angeles, we offer a range of intercom systems that can match any security needs or budget. We can provide installation for simple voice-based intercom systems through sophisticated video doorbell installation options. We can also link your intercom with existing security systems that allow you to control access remotely. We invite you to get in touch with us to find out how we can best serve your security needs.
Commercial Intercom System Installation
Having an intercom system in place for your commercial premises not only protects your staff and property but can also benefit your business in other ways. Office intercoms screen all visitors to your business premises, creating a safer work environment overall. In addition, commercial intercoms can be wired through the building to allow communication between offices or to direct visitors to specific representatives.
When it comes to the best intercom and access control installation in Los Angeles, we at Locksmith Los Angeles can offer a wide range of options for commercial intercom systems. Choose from simple audio-only intercom systems to HD video intercom security system options that allow you to see everyone who arrives on your premises. Take a look at our range of commercial intercoms and get in touch with us for a free quote today.
Locksmith Los Angeles
We have a multitude of services such as :
Get in touch with our helpful team today to find out why we offer the best intercom and access control installation in Los Angeles, Call (866) 883-8311.
What are the different services offered by Locksmith Los Angeles?


There are many reasons why it is not easy finding a good locksmith. But being locked out of your own home, office, or vehicle and don't have any idea who to call and what locksmith company to trust with no lock experience can be the hardest. However, Locksmith Los Angeles Team can help you find a great professional local locksmith. We have locksmiths all over the city of Los Angeles, all available night and day, 24h 7 days a week, ready to help in any lockout situation or replace locks fast and easy. Our techs are fast, reliable, and highly skilled. They carry the most advanced locksmith technology to ensure we can handle any job. We offer a great variety of services such as lockouts, rekeys, key extractions, ignition changes, and much more. Our staff is on-call 24/7 to help with everything from emergency lockouts to simply making extra keys.